TRENDnet introduces surveillance camera management software with an App
TRENDnet has introduced Mira, a new professional-grade surveillance camera management software to help users manage TRENDnet's robust IP camera line. Mira is also the name of the software's companion app, a free surveillance camera app for mobile devices that simplifies IP camera installation.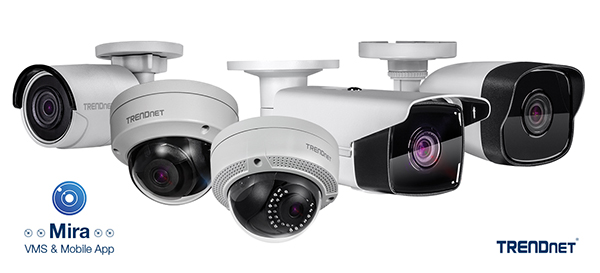 The Mira VMS software includes advanced camera management features designed to simplify the monitoring of your surveillance footage and the management of your TRENDnet IP cameras. It includes much of the same features as previous TRENDnet VMS software such as live view for up to 64 TRENDnet IP cameras; motion detection, scheduling, and event trigger recording options; advanced playback by event; and custom viewing modes. TRENDnet's Mira VMS software also offers features not available before, including support for Mac computers, e-maps for floor plan designs, and mobile app integration.
"Surveillance needs are constantly evolving as technology continues to advance and new real-life challenges are presented," said Sonny Su, VP of technology at TRENDnet. "Based on the valuable feedback from our partners and IP camera customers all over the world, we overhauled our new camera management software and incorporated specific features to meet the needs and demands of our users."
Mobile app support is key for many surveillance applications; it provides instant alerts that allow for immediate action to help reduce risks and damages. TRENDnet's new IP cameras can be easily setup with your mobile device; simply scan the QR code on the camera with the Mira mobile app to start the installation process. The Mira mobile app also offers access to live video, saving screenshots and videos, push notifications, and much more.
TRENDnet's Mira VMS software and mobile app are free with all supported TRENDnet IP camera models.