Imou Ranger IQ Wins 2020 CES Tech Awards
Imou, a leading smart IoT solution and service provider, announced today that it has been named a 2020 CES Tech Awards Honoree in the Smart Home Category for its recently released Ranger IQ, Imou's first AIoT home camera.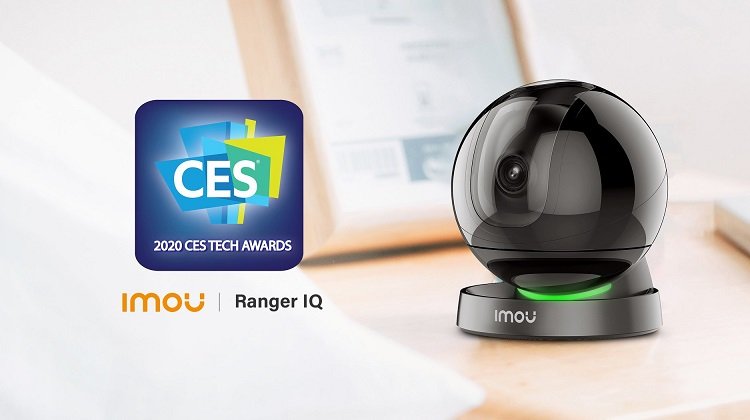 Recognized by a preeminent jury of independent industrial designers, engineers and members of the tech media, the Imou Ranger IQ is a one-of-a-kind, all-connected smart home gateway camera that is revolutionizing home security in the AIoT era via its capabilities to "watch, listen, speak, analyze and act", powered by the latest AI technology and deep learning algorithms.
With a powerful onboard AI Visual Processing Unit (VPU), Ranger IQ can WATCH and pan and tilt to cover every corner of the room. With AI human detection capabilities, it can distinguish human beings from animals or moving objects to avoid any false alert. Ranger IQ can LISTEN and know whenever there's an abnormal sound. With its built-in siren, Ranger IQ can SPEAK to warn off intruders or welcome your visitors.
The AI FACIAL RECOGNITION allows Ranger IQ to ANALYZE the videos and send you specific notifications when it sees the faces of your family or trusted guests you've registered.While letting you know what's happening at home when you are away, Ranger IQ can also have its lens closed when you are home.
Ranger IQ can ACT as the control center of the Imou IoT ecosystem, and synergize with home detectors such as motion detector, door contact, siren, etc. to build your whole-home security system. Working with IFTTT, Ranger IQ interacts with many home devices and automates tasks simply based on AI detection of human activities. Ranger IQ also works with Alexa and Google Assistant, allowing you to get stuff done without doing anything other than speak.