Dahua Technology recently announced that its Eco-Savvy 3.0, H.265 Wi-Fi and H.265 PTZ series network cameras are now compatible with QNAP's NAS surveillance applications. Featuring H.265 compression technology,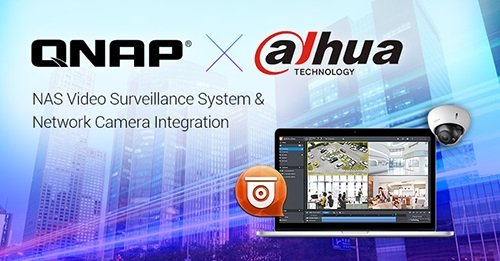 Dahua's network cameras ensure video recording with lower bandwidth and greater security efficiency. QNAP surveillance applications integrate comprehensive video surveillance features into NAS system, providing storage expandability and storage space management functions to surveillance users.
"It's our honor to cooperate with Dahua Technology, and QNAP is working on extending NAS surveillance application scale," said Alan Kuo, product manager of QNAP. "We are pleased to announce that Dahua Technology's Eco-Savvy 3.0, H.265 Wi-Fi and H.265 PTZ series network cameras are proven to integrate well with QNAP surveillance solutions. We will keep providing our users more flexibility in selecting suitable IP cameras when deploying their surveillance solution."
Dahua Technology has one of the most comprehensive line up of surveillance cameras in the industry. The integration with QNAP NAS offers customers more comprehensive functionalities to meet the requirement of every site. "Open, Integration and Innovation has been our guiding principle," said Daniel Chau, Overseas Marketing Director of Dahua Technology. "We are open to work with platform partners, like QNAP, to form an end-to-end solution for customers. We appreciate the value of our relationship and we expect the demand for this Cloud surveillance solution to grow rapidly."
Dahua Eco-Savvy 3.0 cameras provide an impressive range of smart detection features, including face detection, tripwire detection, and intrusion detection. Dahua Wifi 265 cameras support H.265 compression, human detection and also smart tracking. Featuring with powerful optical zoom and accurate pan/tilt/zoom performance, Dahua H.265 PTZ cameras provide large monitoring range in great detail.