Panasonic launches brand new remote camera controller
Panasonic has announced that it will be launching in the Middle East a brand new remote camera controller to complement the brand's comprehensive professional PTZ camera range. The AW-RP60GJ is equipped with a GUI menu screen for clear visibility, and improved joystick for speedy and intuitive operation and PoE support for advanced camera adjustment via a single cable connection.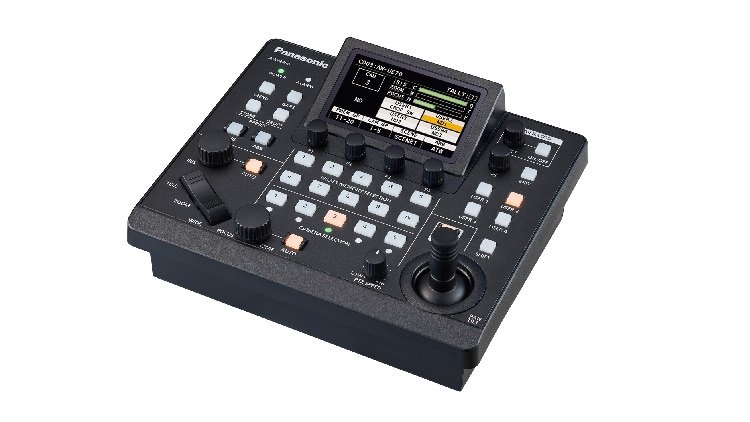 Yasuo Yamasaki – Director, System Solutions & Communications Division, Panasonic, said, "The AW-RP60GJ is compatible with all current Panasonic PTZ models and thanks to the improved GUI, all-important information about the cameras – such as iris, zoom and focus – can be seen at all times directly on the screen. It is also capable of supporting up to 200 cameras in 20 groups, manages 100 presets and comes with PoE support allowing for an easy integration.  With such a powerful feature set, the AW-RP60GJ is a fantastic tool to achieve optimal creative possibilities for live productions, business presentations and meeting room conferencing, as well as for the broadcast and recording of lectures in education and so much more."
Key Features:
The AW-RP60GJ comes with a highly-visible 3.5-type LCD screen to deliver a GUI menu where the information you need is provided at a glance for intuitive and quick camera control.
The controller is equipped with four user assignable buttons, to which up to eight functions of your choice can be assigned. Each preset name can also be customized with a PC tool. These flexible features of the controller make it perfect for use in a wide range of environments, from lectures and corporate seminars to live streaming and broadcasting at amusement facilities.
An improved and easy-to-hold joystick supports smooth pan and tilt controls, ensuring accurate capture of your target image. The grip of joystick is approximately 1.5 times larger than previous model AW-RP50 for a more stable operation.
The AW-RP60GJ supports Power over Ethernet (PoE) technology so it can use a single LAN cable for both camera control and power supply. Additionally, gamma, white balance and other color adjustment functions can be performed. This makes the controller easy to use in a diversity of applications and reduces the cabling workload during system setup.
The AW-RP60GJ measures 210 mm x 92 mm x 177 mm, and weighs just 3.31 pounds.