Panasonic launches industry-first 4K 50P Integrated PTZ Camera
Panasonic is set to unveil the industry-first 4K 50p, HDR integrated PTZ camera, AW-UE150 in Middle East at GITEX Technology Week. The new camera provides images with a smooth and natural look thanks to its 50p sensor, making it well suited to scenes featuring fast movements and high-end applications in commercial settings across industries.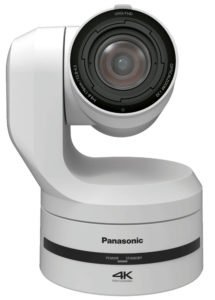 In addition to the AW-UE150, the Japanese manufacturer will also showcase at GITEX the brand-new AW-RP150 Remote Camera Controller, as well as a full line-up of professional integrated cameras with built-in Network Device Interface (NDI|HX) support: AW-HN130, AW-UN70, AW-HN40 and AW-HN38.
"The AW-UE150 is the premium model within Panasonic's high-end PTZ camera range. Products. The enhancements made in its resolution, lensing and interfacing truly makes the AW-UE150 one-of-a-kind. Its 50p capture capabilities and wide shooting angle feature allow users perfect clarity shooting as well as a phenomenal video range, despite any installation space limitations you may encounter," explains Hiroaki Kotera, General Manager – Media Entertainment Business division, Panasonic Marketing Middle East and Africa (PMMAF). "We believe that the addition of the AW-UE150, the NDI-capable cameras, as well as intelligent switchers, will help business in the region deliver a top-notch experience to the market thereby driving business growth."
4K Integrated Camera AW-UE150
This next-generation PTZ camera supports high-quality video production in stadium, lecture halls and other venues. Smooth and high-quality 4K 60p/50p, 20x optical zoom and 32x intelligent zoom (in HD mode), and a wide shooting angle of 75.1 degrees horizontally expand the range of the PTZ camera's applications. The camera is equipped with a variety of interfaces and supports simultaneous 4K/HD operation which allows for versatility in current and future production systems. The camera allows up to three Full HD crops from the single 4K image canvas, which offers greater flexibility and, alongside its compact size, makes it ideal for more challenging camera locations. Other features include a 1-type MOS sensor, large size tally, various optical stabilizers and New Web UI support.
NDI-capable PRO PTZ Cameras
With the NDI interconnection of PTZ camera models AW-HN130, AW-UN70, AW-HN40 and AW-HN38, users can connect the cameras directly to an NDI network, with automatic detection by the NewTek TriCaster and NewTek's IP Series of professional video switchers, as well as to seamlessly integrate with the hundreds of other NDI-capable products in the marketplace, enabled on millions of NDI-capable computer systems. These cameras feature an NDI|HX mode within the camera menu that reconfigures the settings for best performance and full compatibility on an NDI network. Full control of a remote PTZ camera with full tally support is also immediately available and requires no additional menu configuration. NDI|HX perfects the 'single' cable workflow with Panasonic, enabling virtually low latency video, power, audio/video and tally all over one cable.
Intuitive Camera Control with the AW-RP150
Featuring a large LCD screen for monitoring and menu settings, the AW-RP150 offers great usability and is single-hand operable with a joystick in addition to traditional two hand operation that manages all control operations. It adds an SDI input to the LCD panel for control monitoring, and is capable of supporting up to 200 cameras in 20 groups.
Panasonic will display its latest surveillance solutions at Stand #G3-1 , Hall – 3, Dubai World Trade Centre, Dubai, UAE from 14th to 18th October 2018.