Honeywell to secure Egypt's new administrative capital
Honeywell signed an agreement with Egypt's Administrative Capital for Urban Development (ACUD) to feature state-of-the-art public safety and security infrastructure for Egypt's new administrative capital that is being built in three phases 45 kilometers east of Cairo and will expand to cover more than 700 square kilometers once complete.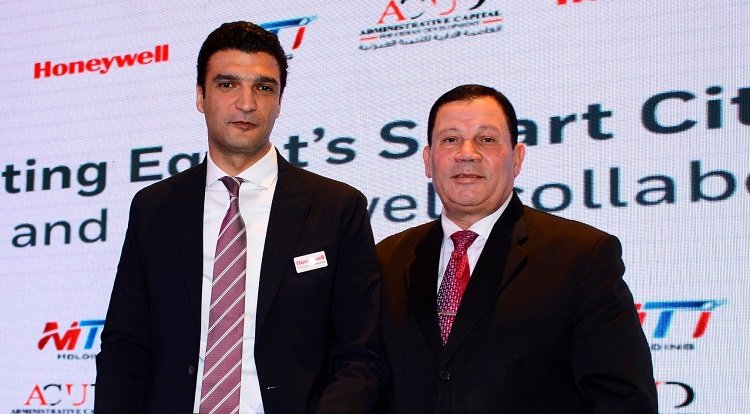 The contract was signed in Cairo by General Eng. Mohamed Abd Allatief, ACUD General Manager and  Khaled Hashem, Honeywell president for Egypt and Libya in the presence of Deputy Head of Information Systems Department (ISD), General Hesham Shendy and US Chief of Mission and Chargé d'Affaires, Thomas H Goldberger.
"ACUD is leading Egypt's most ambitious development project to date, and is firmly committed to leveraging innovation and cutting-edge technology to deliver a smart city based on the principles of safety, security, productivity and sustainability," General Eng. Ahmed Zaki Abdeen, Chairman, Administrative Capital for Urban Development said: "The new administrative capital will redefine smart living and enable a competitive and diversified economy in line with the national development objectives outlined by Egypt Vision 2030. This significant agreement with Honeywell and MTI takes us one step closer to making this vision a reality."
The new capital, one of the world's largest smart city projects, and Honeywell will now deploy city-wide security and surveillance systems as part of the first phase of development, in collaboration with its partner MTI, to integrate security systems across the capital into a single point of control, known as an Integrated Command and Control Centre (ICCC).
The ICCC will integrate advanced Internet of Things (IoT) software and hardware solutions onto one common platform for a holistic city view that provides unified public safety services, coordinating security response units, city police and medical dispatch. The control center will also connect video feeds from more than 6,000 IP cameras over a futureproof wireless network, and run sophisticated video analytics to monitor crowds and traffic congestion, detect incidents of theft, observe suspicious people or objects, and trigger automated alarms in emergency situations.
"Honeywell is at the forefront of deploying smart city infrastructure, driving the industry forward with innovative connected technologies that improve the safety, security, and energy efficiency of urban areas around the world," Hashem said, "We believe that a smart city is a safe city, and are proud to be collaborating with ACUD and MTI on this vital critical infrastructure project, which will ultimately lead to a smarter, safer, and more prosperous Egypt."