GEZE launches LED Sensor Foot Switch for Automatic Door
GEZE announced the launch of their new and robust GEZE LED sensor foot switch, which is suitable for in-floor installation.  The new LED sensor foot switch is useful for applications such as restaurants, where personnel must be able to quickly and conveniently open and close doors even with their hands full. In the medium term, the LED sensor foot switch re- places the GEZE foot contact switch, which switches pneumatically.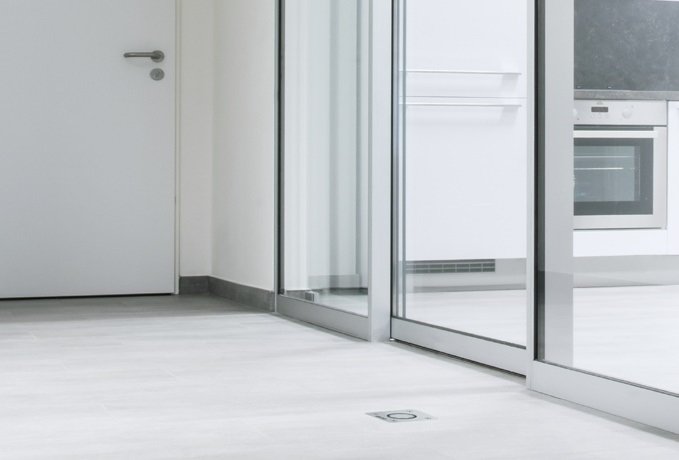 The GEZE LED sensor foot switch is floor mounted and is used to activate automatic doors. It can be mounted on many types of flooring; a separately available vertically adjustable base assembly allows it to be mounted on the upper edge of the unfinished floor, especially  if a screed floor is added. And it allows an easier connection to the GEZE door control unit's contact sensors.
It is possible to mount the sensor foot switch on unfinished floors. To do so, the optionally available base assembly is mounted on the floor, the external flexible tube (on site) is attached, the cable connection is pre- pared, and then the screed can be poured. The base assembly can be used for floor depths between 80 and 215 mm above the level of the unfinished floor and can be shortened accordingly via a scale on the base.
The GEZE LED sensor foot switch has a high IP protection rating of IP69K as a standard, so that the electric components are protected against dampness and moisture. Tempered glass and a one-piece milled floor element offer additional protection to the sensor. The sensor can withstand a weight of up to a half a ton (500 kg).
"Our high company standards ensure that our products contribute to innovative building concepts and provide barrier-free access, comfort and safety in building technology" said Charles Constantin, the managing director of GEZE Middle East.
"Sustainability has always been at the core of GEZE's business model – Right from research, development and manufacturing of our products all the way through to after sales support," concludes Charles Constantin.