World's leader in civilian drones and aerial imaging technology, DJI recently introduced a new camera drones with two additions to its iconic Mavic series: Mavic 2 Pro, the world's first drone with an integrated Hasselblad camera, and Mavic 2 Zoom, the world's first foldable consumer drone with optical zoom capability.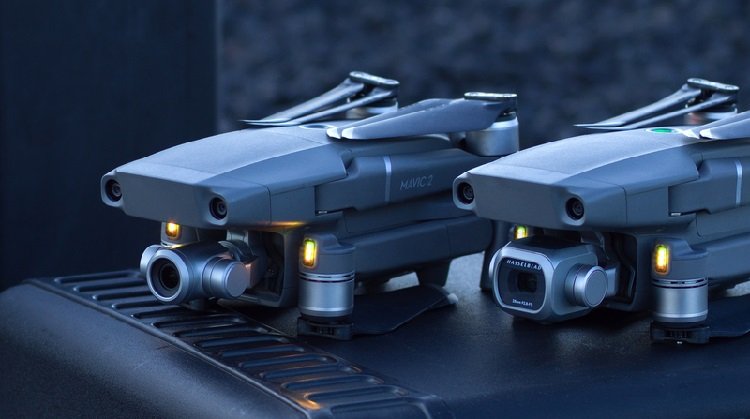 The Mavic 2 is the most advanced DJI camera drone ever built, designed for professionals, aerial photographers and content creators. Incorporating the iconic folding design of the world's most popular Mavic Pro, the Mavic 2 is a powerful platform with new gimbal-stabilized cameras and advanced intelligent features like Hyperlapse and ActiveTrack for easier and more dynamic storytelling. With an impressive flight time of up to 31 minutes and a more stable video transmission system, Mavic 2 delivers the optimal flight experience for capturing epic shots.
The Mavic 2 Pro is the world's first drone with an integrated Hasselblad camera for outstanding image quality with superior light and color performance. Housing a 1-inch CMOS sensor with a 10-bit Dlog-M color profile, the camera captures four times as many levels of color per channel compared to Mavic Pro to provide maximum flexibility for photo and video editing. The Mavic 2 Pro can capture 20-megapixel aerial shots with utmost color accuracy using Hasselblad's unique Hasselblad Natural Color Solution (HNCS) technology, while an adjustable aperture from f/2.8-f/11 provides more control across a wide variety of lighting conditions. With 4K 10-bit HDR support, the Mavic 2 Pro can be plugged into a 4K TV with HLG and will play back footage with the right color tones.
Powered by a 1/2.3-inch CMOS sensor, the Mavic 2 Zoom is DJI's first foldable consumer drone with zoom, providing a dynamic perspective that ushers in a new era of creative storytelling. With the Mavic 2 Zoom, you can get closer to your subject at a moment's notice by combining two-times optical zoom (24-48mm) with two-times digital zoom to simulate a 96mm telephoto lens that captures lossless video in full HD resolution. Hybrid auto-focus on the Mavic 2 Zoom combines phase and contrast detection for higher focus accuracy with an increased focus speed of up to 40% faster than before. Shoot vivid 12-megapixel photos or take advantage of the new Super Resolution feature that uses optical zoom to automatically capture and stitch nine photos together for a highly detailed 48-megapixel image, making it an ideal option for landscape photography.
Exclusive to the Mavic 2 Zoom, the new Dolly Zoom QuickShot mode opens a new visual language for storytelling that was previously reserved for professional cinematographers. It creates an otherworldly warped perspective by automatically zooming in as it flies away from its subject, keeping the subject the same size while the full background of the scene is revealed.
Both cameras capture vivid 4K ultra-high definition video with extreme detail, recording at a maximum bitrate of 100 megabits per second using the H.265 compression codec to give you an exceptional degree of latitude in post-production workflows. For photographers, new Enhanced High Dynamic Range capabilities blend a sequence of photos for ghost-free high dynamic range, giving the Mavic 2 Pro an impressive 14 stops of dynamic range and Mavic 2 Zoom up to 13 stops.