Dahua Technology has launched its upgraded Three-in-One Camera series – the TiOC 2.0. Aside from its Active Deterrence function, it is also equipped with Smart Dual Illuminators, VoiceCatcher technology and other intelligent features that can help ease your monitoring operation and customize your alarm system based on your actual needs.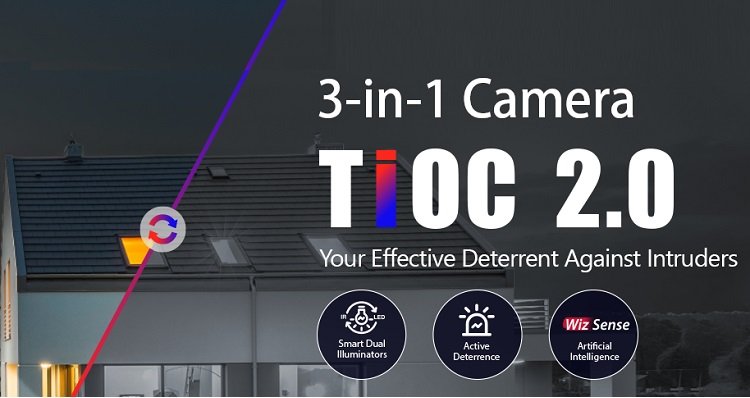 Smart Dual Illuminators: Flexible lighting modes
The upgraded TiOC 2.0 features Smart Dual Illumination technology can flexibly switch between IR mode and white light mode. The smart illumination mode adopts deep learning algorithm to detect target, when the Smart Illumination Mode (default mode) is enabled, the supplementary white light will only turn on when a target has been detected in the monitored area (PTZ camera tracks the target).
The active alarm will be triggered as well (siren and blue & red light) if the target enters the rule area. When the target leaves the monitored area, the supplementary white light will turn off (PTZ camera goes back to preset) and the IR illuminator will turn back on, which can significantly help reduce light pollution during night time. Together with other modes including IR Mode and White Light Mode, the smart dual illumination technology can meet various scene requirements of customers.
VoiceCatcher Technology: Purer voice audio, farther pickup distance
The Dahua VoiceCatcher technology adopts a high-sensitivity dual mic array – a newly designed audio acquisition circuit that can intercept external circuit interference. With Dahua's self-developed noise reduction algorithm and high-performance SOC, this feature significantly increases the camera's audio pick-up distance by 7 meters compared with the previous generation of TiOC (based on standard laboratory environment).
In addition, the VoiceCatcher technology can also reduce noise and extract audible audio signals, which greatly enhance the TiOC 2.0 cameras in terms of sound quality. These dual mic cameras provide clear sound, high wind noise reduction rate, and low environmental background noise, whereas a typical single mic produces a slightly distorted sound. Combined with built-in speaker, a dual mic array greatly enhances the device's Two-way Talk function, providing clearer and more audible sounds.
Better Image: New low-light image experience
Normally, the focus for visible light and IR light cannot be achieved in the same plane when the camera uses F1.0 large aperture. Focusing on an area in the monitored scene using cameras with these specs is difficult.
Powered by OPC (Optical Path Compensation) technology, the TiOC 2.0 cameras can correct the angle of refraction of different light rays, allowing Dahua IPCs to output brighter and clearer black & white images with F1.0 large aperture lens. It is the first Dahua Network Camera with such feature.
Moreover, Dahua innovatively adopts F1.0 super large aperture which greatly improves image quality (IR cameras on the market mostly have F1.6 aperture). The F1.0 aperture lens of TiOC 2.0 cameras increases the light input by 1.96 times and 2.56 times compared with F1.4 and F1.6 respectively. This technological breakthrough enables a smooth visual experience with high brightness and real-time 4K resolution at 25/30 fps even when AI is enabled.
Ecosystem: Convenient functions for easy operation
Aside from the DMSS app, the TiOC 2.0 camera series also works with WEB/NVR software. It allows configuration of alarm-in ports directly on the webpage interface, providing alarm receiving or one-tap arming/disarming function that can control both siren and warning lights with just a click of a button through the alarm system interface. It features 11 built-in alarm sounds and supports importing of custom voice audios that can be used as a welcome message in stores and as a deterrent in restricted areas.
AI Features: Enhanced detection of events
This upgraded series also adopts AI algorithm instead of conventional PIR sensors to improve its event detection accuracy. It boasts an array of AI functions, including SMD 3.0, Perimeter Protection, making it suitable to various application scenarios including public areas and private places.
Auto Tracking 3.0 (PTZ): Smaller target size, longer tracking distance
Equipped with deep learning algorithm, the upgraded TiOC 2.0 also offers Auto Tracking 3.0, a unique technology of PTZ cameras. It utilizes the characteristics of the PTZ camera to rotate (horizontally and vertically) and zoom in/out to track targets. Once a target triggers the IVS rule, the camera zooms in and tracks the defined target in motion within the scene.
Auto Tracking 3.0 provides a smooth tracking process. Combined with PFA 3.0 algorithm (a deep fusion of intelligent algorithms and focusing algorithms), it realizes touchless focusing during the tracking and capturing process. With the Auto Tracking 2.0 algorithm as its foundation, the requirements for the tracking size of the target are further reduced, making the target size smaller and the tracking distance longer.
Overall, the upgraded Dahua TiOC 2.0 offers innovative features that allow users to customize their monitoring systems based on their own preferences. Its Smart Dual Illuminators can help reduce light pollution during the night, while its VoiceCatcher technology can significantly decrease background noise. It is equipped with F1.0 large aperture and optical path compensation technology – a breakthrough technology in the industry – that can capture brighter and clearer image even under low-light conditions. What's more, it offers longer tracking distance and intelligent AI functions that can help ease surveillance operation. It also allows integration with traditional alarm systems.