Dahua Technology, announced the release of the version 8 of DSS, its video management software platform and the new version introduces enhancements to existing features of DSS 7 and is equipped with newly added features, with the primary goal of making security easier and robust at the same time.
3+2+1 Application-based Design
DSS 8 is designed based on actual business applications. On the main interface, the application is divided into three security application management modules, two targets (human and vehicle) management modules, and one system operation and maintenance management module.
In addition, this platform is also based on real-life security event handling scenarios. The security application management is divided into three stages – from real-time monitoring center before the event, to event center during the event, and then to intelligent retrieval after the event – which form closed-loop management.
The intelligent entry/exit and tracking of two primary targets (human and vehicle) is facilitated by its Access Management and Vehicle Entrance and Exit Management features.
The last component, Maintenance Center, is an intelligent O&M that enables users to comprehensively monitor and report the status of the system and other connected devices.
Makes Target Search Faster and Easier
The DeepXplore is an AI-based intelligent search engine that offers intelligent search of persons and vehicles with reference to time and location. Using this function, the operator can easily trace a person across the building in few clicks. The DSS platform collects data from cameras, access control and ANPR cameras, allowing it to track the target from the parking lot until he reaches his office.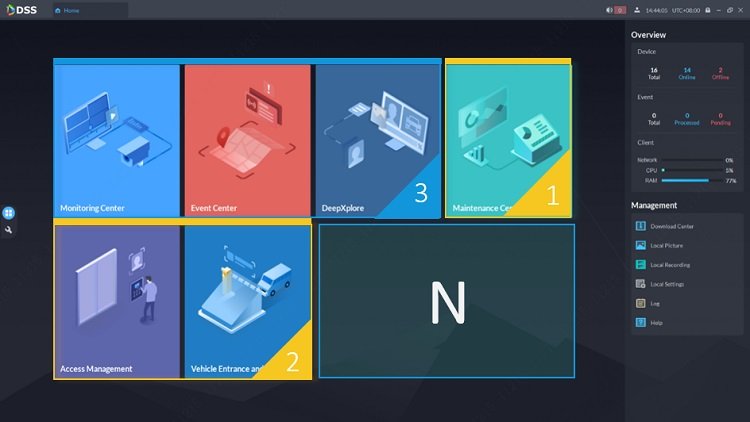 Simplified UI
DSS 8 has a unified architecture that provides decluttered, simplified and responsive interface, improving its ease of use and reducing the time and costs of onboarding new users. It provides a single, integrated and scalable platform for DSS products.
Real-time and Integrated Monitoring
The monitoring center has an integrated real-time display in form of Live View, Video Wall and Emap, which blends feeds from a variety of input sources like video, access control, video intercoms, ANPR, Face Recognition, etc.
The launch of Dahua's DSS Version 8 is the result of persistent customer support and feedback combined with R&D approach based on AI and IoT. Committed to its mission of "Enabling a Safer Society and Smarter Living,"