Saudi Arabia's alfanar partners with Huawei
Riyadh based leading manufacturer of wide range of electrical products and solutions, alfanar has partnered with Huawei to incorporate IoT and 5G technologies in its product line to offer greater sustainability and efficiency. Together the two companies will co-create 5G and IoT solutions that will accelerate the digital transformation of the Middle East's electricity industry.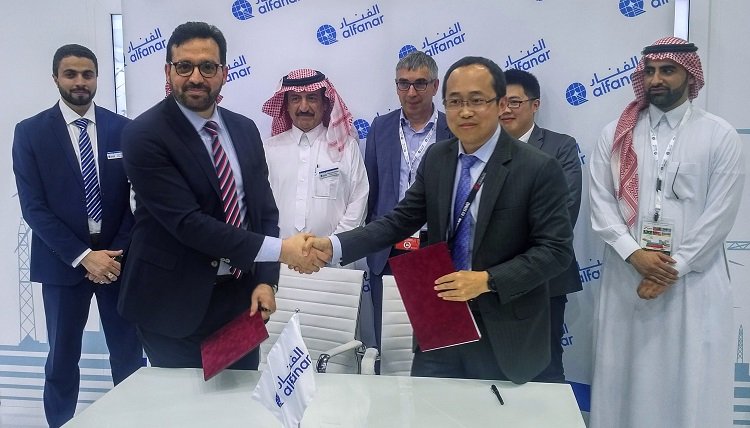 alfanar will adopt Huawei's global IoT cloud service tailored to the unique requirements of Middle East and launch the service soon in the Kingdom for the first time, with the goal of expanding the service to the region soon. This service will help organizations in Saudi Arabia to become more sustainable by developing energy management solutions that enable customers to precisely track and monitor their energy consumption.
Abdul Salam Almutlaq, Chairman of alfanar, said "As one of the major players providing electricity infrastructure to Saudi Arabia, we are excited to partner with Huawei and harness the most advanced ICT technologies and integrate them with smart solutions. Emerging IoT and 5G-driven solutions are finally allowing smart services to be deployed on a large scale, and we look forward to spearheading the shift towards building a smarter – and greener – Kingdom."
The partnership has already led to successful integration of NB-IoT chips into alfanar's products, such as the smart energy monitoring NB-IoT devices. The sensor data is then decoded by alfanar, and the network-specific KPIs are made available to provide added values to end-users via Huawei IoT platform. Innovations such as these will make life more convenient for the people of Saudi Arabia, and have a key role to play in making the Kingdom greener and more energy-efficient, helping organizations reach the sustainability targets outlined in Saudi Vision 2030.
Sun Xiaofeng, VP of Middle East Region, Head of Middle East Marketing and Solution Sales Department, added "We are excited to launch this innovative cloud service here in Saudi Arabia, with the hope of soon expanding across the region and even the world. We are committed to open innovation and collaboration to promote the power sector in Saudi Arabia; by working with our local partners to co-create tailored solutions, we aim to be the leading technology enabler in the Middle East. We hope our partnership with alfanar will further strengthen our complete ecosystem of partners, manufacturers, technicians, developers and designers to bring the best 5G and IoT solutions to the Kingdom."