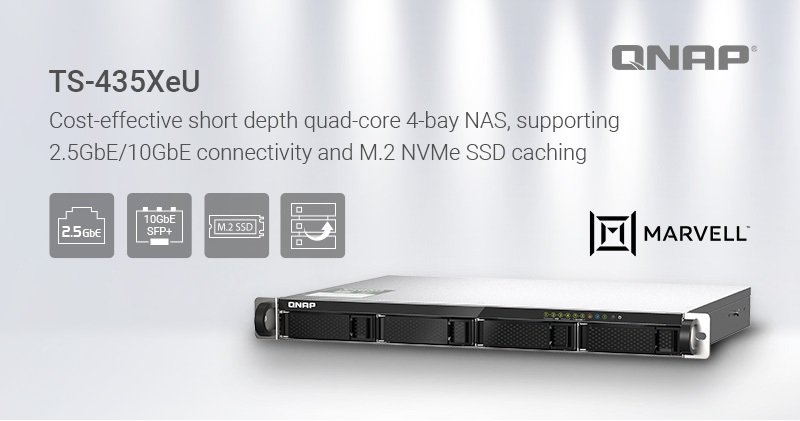 QNAP announced the launch of its new TS-435XeU 4-bay NAS that uses a Marvell OCTEON TX2 CN9131 quad-core 2.2 GHz processor. With a compact 1U short depth chassis, the TS-435XeU can be easily installed in small media cabinets or places with a lot of cabling.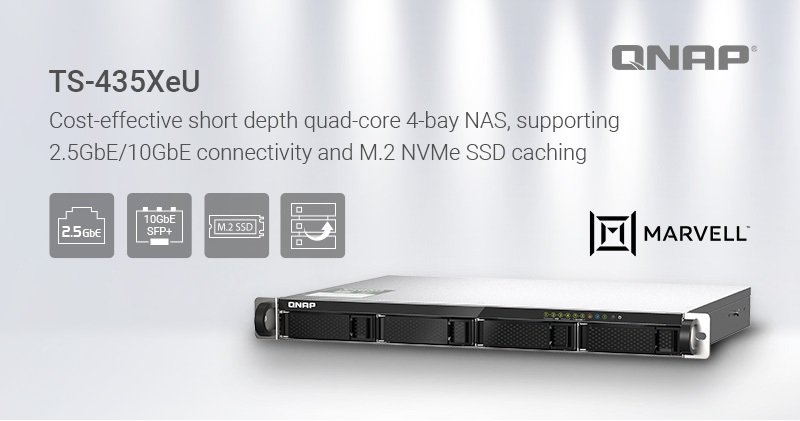 As an entry-level rackmount NAS that balances cost and performance, the TS-435XeU includes dual 10GbE and dual 2.5GbE ports, two M.2 PCIe Gen 3 NVMe SSD slots, storage scalability, and highly-anticipated business and media features.
"The short-depth TS-435XeU NAS satisfies business demands for high performance and efficient space utilization," said Jason Hsu, Product Manager of QNAP, adding "With high-speed 2.5GbE, 10GbE, and M.2 NVMe SSD slots, the TS-435XeU delivers a premium experience compared with other NAS in the same price range and provides an all-round reliable NAS solution for quality IT efficiency and data storage."
The TS-435XeU features four 3.5-inch SATA drive bays and 4 GB DDR4 memory as standard (expandable to 32 GB). The inbuilt dual 10GbE and dual 2.5GbE ports help streamline workflows for massive file transfer, high-speed backup/restoration, and multimedia transmission, while also supporting port trunking and load balancing for enhanced performance and reliability. With two M.2 NVMe SSD slots, users can install SSDs (sold separately) into the TS-435XeU and enable caching to boost application performance and reduce latency, or use Qtier auto-tiering to maximize storage utilization and efficiency.
The TS-435XeU meets storage demands for security, backup, file sharing, and central management. Qsync streamlines cross-team file sync to boost productivity. Block-based snapshots ensure data protection, provide instant restoration, and can help protect against the impact of ransomware attacks. HBS (Hybrid Backup Sync) facilitates local/remote/cloud backup tasks. The TS-435XeU's storage capacity is scalable through connecting economical QNAP storage expansion enclosures.
The TS-435XeU provides a built-in App Center that includes feature-rich apps to increase NAS application potential, such as hosting containers, deploying a cloud storage gateway, implementing a professional video surveillance system, and much more.