HID Global unveils its new cloud-based platform, HID Origo
HID Global unveiled its new cloud-based platform, HID Origo that combines HID's technologies for mobile IDs with its expansive access control architecture to bring together physical security and a wide range of building applications, services and IoT use cases via a unified cloud experience.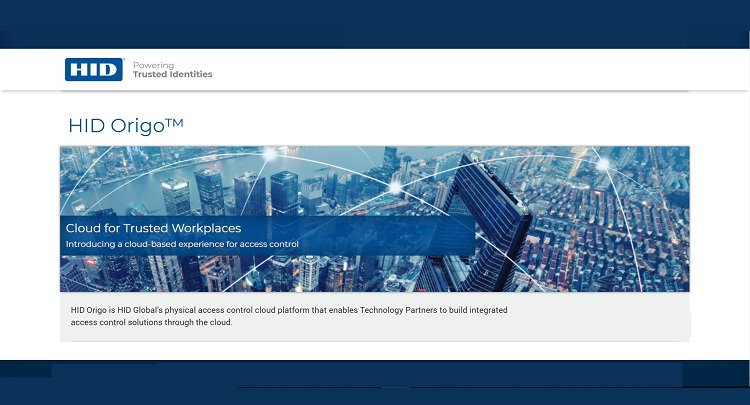 The company claims that this new cloud platform opens a brand-new world of opportunities for partners to create more seamless and intuitive workplace experiences that are built on HID's proven access control infrastructure.
The new platform provides an app-based innovation model that delivers a comprehensive suite of integration, enablement, developer tools and services geared towards simplifying how partners and a growing community of new developers and resellers bring access control solutions to market. Rather than requiring that entire solutions be developed and enabled one customer or site at a time, HID Origo will make it possible to develop new applications and integrated solutions for HID's complete installed base of millions of access control devices and system—all at once.
The HID Origo platform embeds cloud connections and IoT functionality as app extensions into mobile devices, HID readers and controllers, and gives developers direct access to this hardware via HID Origo application programming interfaces (APIs) and software developer kits (SDK) already proven through HID's mobile access solution.
The platform also enables data analytics to be used for new capabilities, including remote reader configuration, predictive access control system maintenance and intent detection for more seamless and personalized workplace experiences.
"HID Origo lays the foundation for a broad ecosystem of cloud-based access control technologies, products, services and business models that will accelerate workplace innovation; it dramatically increases our partners' capabilities to create more connected and seamless building experiences for end users," said Hilding Arrehed, Vice President of Cloud Services, Physical Access Control, with HID Global.
"The platform will remove integration barriers between access control systems and smart building applications, and we will continue to expand its value with capabilities that further improve how people securely move through a facility and interact with its services." adds Arrehed.
HID Global is also showcasing the HID Origo from its stand F42 at Intersec 2019 held in Dubai, UAE.