H3 Dynamics, has signed a memorandum of understanding (MoU) with Avaya Holdings Corp to deliver a suite of aerial video and real-time video analytics solutions to government and emergency responders across the Middle East and Africa. The two companies have developed integrated solutions to be demonstrated at Avaya ENGAGE Dubai, taking place this week.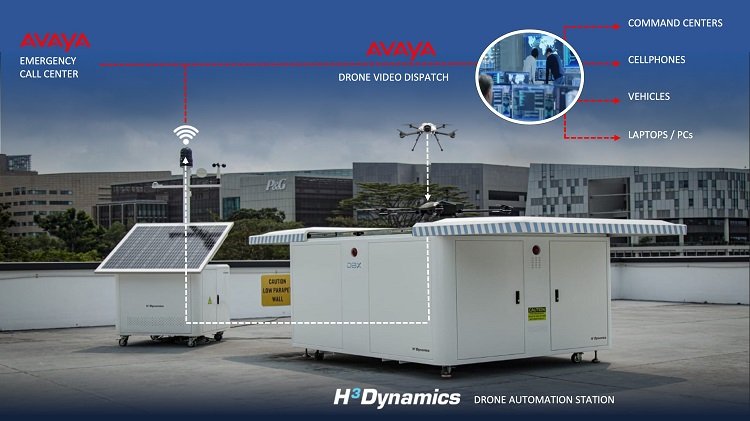 This collaboration combines H3 Dynamics' autonomous Dronebox charging stations and Avaya's market-leading video-conferencing to provide rapid response in emergencies. Aerial video streams can also be fed through to multiple locations and devices via secure video conferencing. Emergency and non-emergency contact centres running Avaya IX Contact Center solutions will also be able to remotely deploy and manage drones in emergency scenarios and be supported by a real-time aerial video stream of events taking place in such scenarios.
The combination of both companies' technologies will help government agencies and emergency responders to react to incidents faster and more efficiently.
"Our core technology blueprint can easily be translated into several exciting use cases. Because our solutions enable the automated deployment of drones, we can achieve rapid response times to various incidents with minimal human involvement. Our partnership with Avaya helps teams on the ground gain the information they need to make more informed decisions while saving a lot of time," said Taras Wankewycz, Group Founder & CEO, H3 Dynamics.
Frederick Sabty, Vice President – Hospitality, Healthcare and Intelligent Devices, Avaya International, added "The openness of Avaya's unified communications and contact centre portfolio technologies enables the creation of cutting-edge use cases. As is true in the private sector, public organizations no longer require standalone products – they need real, integrated solutions that meet their challenges. This MoU represents a perfect example of combining our market-leading, open communications products with next-generation autonomous flight technology to deliver a never-before-seen innovation."