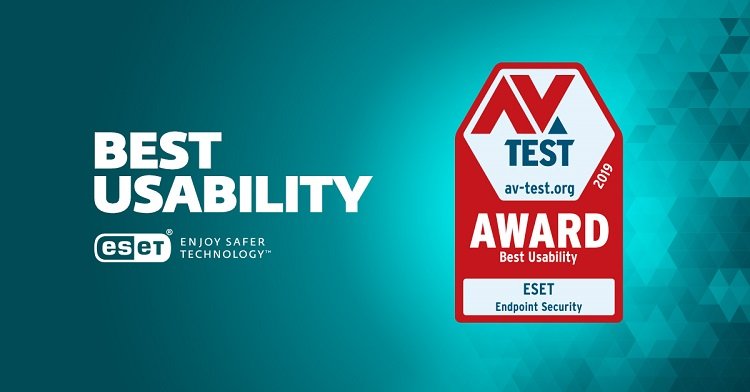 ESET bags AV-TEST Awards 2019
ESET, today announced that it has been recognized in the AV-TEST Awards 2019 for outstanding IT protection. AV-Test, a leading independent testing organization, uses one of the largest collections of digital malware samples in the world, the Institute's own research department, as well as intensive collaboration with other institutions, to guarantee tests on an internationally recognized level.
Their 2019 awards recognize the manufacturers of innovative security solutions over an entire one-year testing period. For peak achievements, the AV-TEST Institute has recognized 20 products in the categories of protection, performance, usability, repair and mobile security. Following rigorous testing, ESET's Endpoint Security solution has been honored with the Best Usability 2019 Award by the AV-TEST Institute.
In 2019, the number of malware programs recorded by AV-TEST broke one billion samples, both highlighting the increasing sophistication of new attacks, and stressing the vitality of advanced and innovative cybersecurity solutions – for home and corporate users.
In addition to the AV-Test certificate of excellent protection, ESET Endpoint Security was commended for "a consistently low false alarm rate" and "is recommended as a superb security solution for companies." In regard to the Best Usability Award, ESET's solution won out, as "hardly any other software was able to achieve such stellar results in the category of usability in the annual test."
Commenting on the achievement, Jiři Kropáč, Head of Threat Detection Labs at ESET, said, "ESET's recognition from AV-Test is testament to our dedication to our customers and our promise to always deliver the best in IT security solutions. Ensuring businesses are equipped with cutting-edge protection against the latest threats is extremely important to us. Innovative cybersecurity solutions are absolutely essential to modern businesses and their safety, and we are honored to receive the 2019 Award for Best Usability and to be recognized as a key player in making technology safer for everyone."