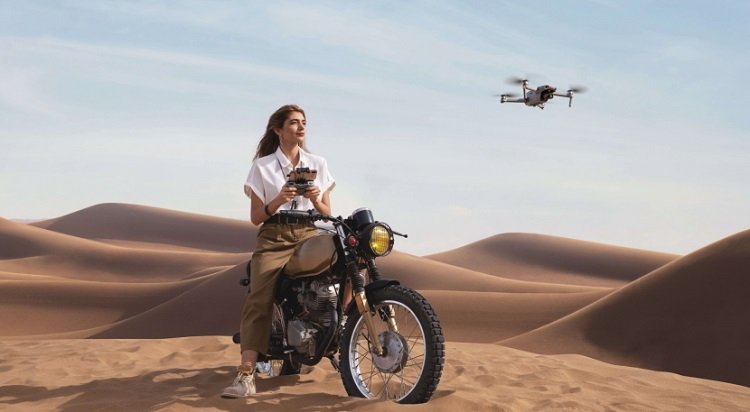 DJI launched a compact and easy to use folding drone, Mavic Air 2 that is combined with high-grade imaging to make capturing high-quality content from the air. The Mavic Air 2 offers flagship features 8K functionality and a larger 1/2" camera sensor offers high-resolution photos and videos.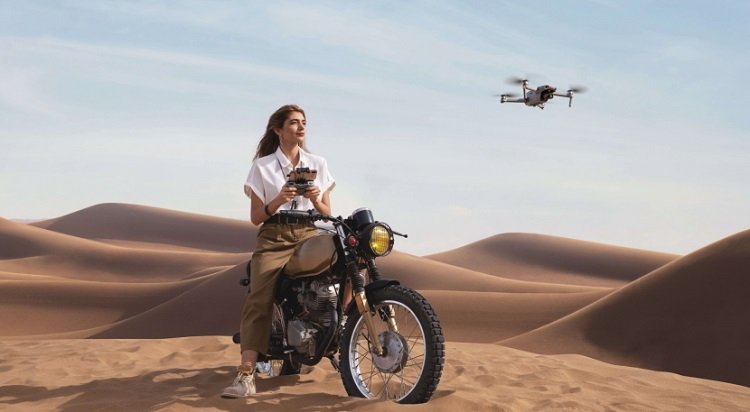 Pilots can now stay in the sky longer with an enhanced maximum flight time, capture vivid imagery with completely revamped autonomous capabilities, and wholly transform their content with in-app editing features.
"Mavic Air 2 is another milestone for DJI, demonstrating that our smartest consumer drone does not have to be the largest," said DJI President Roger Luo. "While the Mavic Air 2 bears all the hallmarks of the Mavic drone family, we had to completely rethink its design and development process. Our goal was to create a drone that offered the best overall experience possible to even the most novice pilot. We hope our drones can help boost creativity and become a fun yet educational experience that can be enjoyed, even at this unprecedented moment in history."
Mavic Air 2 is the first drone in the Mavic series to offer 4K video at 60 fps and 120 Mbps. Additionally, users can record unique content using HDR video, 4X Slow Motion in 1080p at 120 fps or 8X Slow Motion in 1080p at 240 fps. Pilots can record 12-megapixel images or choose a new high-resolution 48-megapixel feature that photographs in stunning detail, while a mechanical 3-axis gimbal helps compensate for camera shake to create smooth and stable footage, even in unpredictable scenarios.
Despite only weighing as much as a small water bottle at 570 grams, the Mavic Air 2 features new motors, new electronic speed controllers (ESCs), enhanced battery technology and an aerodynamic design to provide a maximum flight time of up to 34 minutes.
DJI's proprietary OcuSync 2.0 transmission technology has been upgraded to deliver an extremely reliable and stable HD video feed from the drone at a maximum distance of 10km. OcuSync 2.0 supports both 2.4GHz and 5.8GHz frequency bands and uses an auto-switching feature to move between the two based on signal strength, while anti-interference technology blocks unwanted signals to keep the video feed clear.
Mavic Air 2 is equipped with unprecedented new safety features to help make flying as safe as possible. Obstacle sensors on the front and rear of the drone warn pilots when they're too close to an object and can also be set to stop the drone from moving any closer to avoid collision. Additional sensors and auxiliary lights on the bottom of Mavic Air 2 assist with several functions including smooth, automatic landing even in difficult lighting. Mavic Air 2 also comes equipped with our GEO geofencing solution to help keep drones away from the highest-risk locations, such as busy airports.
Advanced Pilot Assistance System (APAS) 3.0 brings the next level of autonomous flying and it helps to tackle the obstacles come into the drone's path, Mavic Air 2 will create a new path around, under or over the object to avoid collision, giving pilots the confidence to fly in more complex situations while focusing on capturing their ideal images.
Mavic Air 2 is also DJI's first consumer drone designed to include AirSense technology, which provides enhanced safety by warning drone pilots of other aircraft nearby. AirSense uses aviation technology known as ADS-B to receive signals from nearby airplanes and helicopters, and displays their location on the drone pilot's control screen. As these other aircraft approach the drone, AirSense will warn the drone pilot with messages, sounds and vibrations, enhancing the pilot's awareness and ability to move the drone safely away.
"DJI has an unwavering commitment to enhance drone safety with technology, and Mavic Air 2 implements yet another pioneering safety solution for drone operations," said DJI Vice President of Policy & Legal Affairs Brendan Schulman. "Our ambitious commitment to installing ADS-B in our new product models means Mavic Air 2 will be the world's largest single deployment of ADS-B receiver technology, fulfilling and furthering our vision as the industry's leader on voluntary safety efforts."
The DJI Mavic Air 2 is expected to be available in the UAE by mid-May. Mavic Air 2 will be available in two purchasing options: a standard package which includes Mavic Air 2, one battery, remote controller and all the required wires and cables – retailing at 2,999 AED and the Fly More option, which includes all items from the standard version, as well as a shoulder bag, ND filters, charging hub, and 3 batteries – retailing at 3,759 AED.
Pre-order purchases are now available via Advanced Media: https://www.amt.tv/