Transition Networks, recently announced that it has joined the Milestone Systems' Marketplace enabling Milestone Technology Partners to market their applications, hardware, and services that integrate with or are designed to work with Milestone XProtect VMS. In 2018, Transition Networks partnered with Milestone to integrate all of its managed PoE+ and PoE++ switches into the Milestone Systems' XProtect VMS.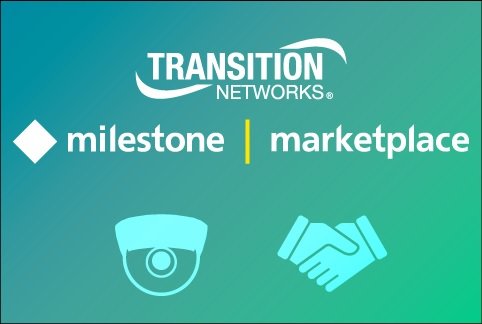 Milestone Systems' XProtect VMS allows security integrators to create custom surveillance solutions for industry-specific needs such as combining video with access control or linking video with transaction data. The integration with Transition Networks' switches and Device Management System (DMS) software provides time-saving installation features that enable security integrators or network administrators to establish and document a baseline deployment, and automatically discover and remotely configure attached IP-addressable powered devices.
The Milestone Marketplace provides security integrators with a resource of qualified solution providers to aid in developing their security camera networks, and a place for Transition Networks to grow and connect with customers. Transition Networks was the first managed PoE+ and PoE++ switch manufacturer to offer an integration plug-in with Milestone's VMS.
"The integration between Milestone Systems' XProtect VMS, our DMS software, and PoE+ and PoE++ switches ensures lower overall cost, less downtime, and easier management and maintenance of the entire PoE+ and PoE++ network," said Todd Trenasty, Vice President of North America Sales, Transition Networks. "We are pleased to be a part of the Marketplace and look forward to continued success in our partnership."