Hanwha Techwin unveiled the radiometry and positioning thermal cameras in a bid to solidify its thermal lineup. These thermal cameras that support the 640×480 VGA resolution dynamically improve sharp and crisp images, taking the image quality of thermal cameras to another level. This was enabled by removing the noise in edges and blurs in distant objects typically found in conventional thermal cameras.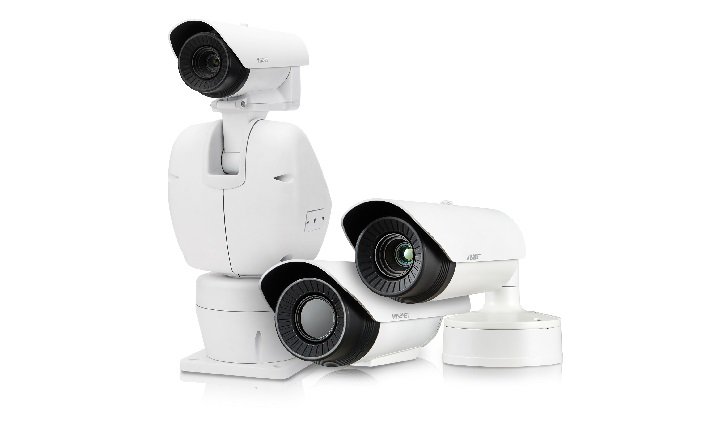 The three newly launched radiometry thermal cameras TNO-4030TR and TNO-4040TR/41TR adopt 13mm and 19mm lenses respectively, offering various applications based on the monitoring distance users need. They can also detect the temperature range of -20°C to 130°C.
The cameras allow a swift response to events by instantly notifying the users if the temperature goes above or below a set limit or the temperature changes rapidly. This can be ideal for monitoring fire hazard areas such as electrical conduits, utility factories, and forests where full monitoring is critical.
In particular, the positioning thermal camera TNU-4041T and TNU-4051T uses the 19mm and 35mm lens, identifying objects of up to 3,157 meters away. It provides a swift monitoring of 120° per second for a ground-to-sky view of -90°to 40°with a 360° panoramic view, making it versatile for large area monitoring in nighttime or monitoring areas such as military facilities, airports/seaports, and the periphery of industrial complexes.
Featuring WiseStream II, Hanwha Techwin's unique video compression technology, the cameras provide effective data compression to enable efficient network streaming for fast and reliable transmission of even large size video files. They also offer various analytics such as motion detection, audio analysis, push notifications, and image stabilization using gyro sensors. The cameras are IP66/IK10 rated for protection against water, dust, and impact, making them an ideal choice for outdoor applications as well.
In a statement the company said, "Adding to the two thermal cameras launched earlier this year, our new lineup of radiometry and positioning thermal cameras has enabled detailed monitoring in diverse environments such as residential, industrial, and military facilities, we will continue to develop our products to beef up our lineup specialized in specific solutions."