Dahua, TÜV Rheinland partners to offer data protection
Dahua, the global video surveillance brand signed a strategic cooperation agreement with TÜV Rheinland to provide a comprehensive solution that centers on IoT (Internet of Things) product privacy protection certification towards multiple Dahua products including IP cameras, network video recorders, software platforms, intelligent servers, etc.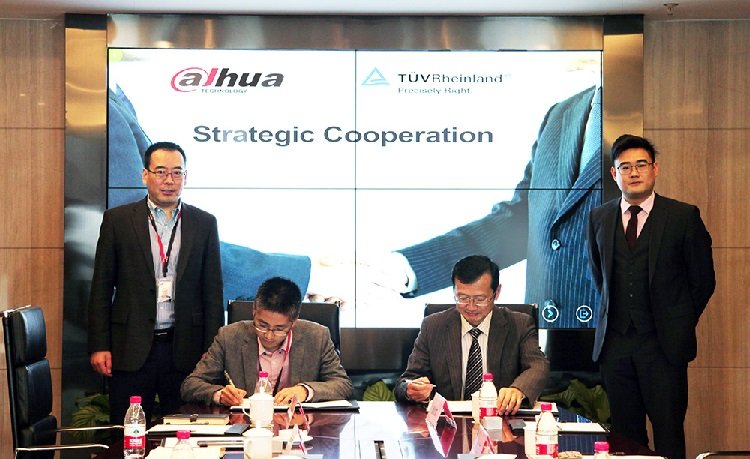 The cooperation aims to help Dahua Technology better cope with the upcoming implementation of General Data Protection Regulation (GDPR), a data privacy law drafted by the European Union as one "most stringent in history", and will be implemented on May 25th, 2018. GDPR establishes strict protection standards for personal data security and privacy rights. It also enhances the level and applicable scope of personal data protection.
TÜV Rheinland will work with Dahua's internal data compliance team to provide comprehensive joint design and testing services towards Dahua Technology's IP cameras, network video recorders, software platforms, intelligent servers, etc. The services from TÜV Rheinland are based upon EU GDPR Act and the internal 2PfG standard, including hardware and firmware, privacy data processing, local communications, Internet communications, applications, penetration tests, and factory inspections. Products which pass the test and obtain the TUV Rheinland test logo of the IoT product privacy protection mean that they are world-class in information security and privacy protection.
"As a leading solution provider in the global video surveillance industry, Dahua has always attaches great importance to user's personal privacy and data security. The strategic cooperation with TÜV Rheinland is well in line with Dahua's company mission, which is enabling a safer society and smarter living. Through years' of continuous efforts, Dahua has built a foundation in regards to data supervision. We believe with the support of professional services from TÜV Rheinland, Dahua's data supervision capability will reach a new height and thus consolidate our momentum in the global market" said Zhang Xingming, Vice President for Dahua Technology.
As for the significance of this strategic cooperation, Yang Jiajie, Vice President of TÜV Rheinland Electrical Business in Greater China said, "Dahua Technology is among the first batch of the companies that have cooperated with TÜV Rheinland to enjoy IoT product privacy protection service, demonstrating its respect for privacy as well as its positive and rapid response to market changes. Through our respective professional capabilities, we will work together to enhance the competitiveness of the industry."