American University of Sharjah's (AUS) Engineering Al Nukhba Program has recently partnered with Hikvision, an Artificial Intelligence of Things (AIoT) solution provider specializing in video technology. With the signing of a Memorandum of Agreement (MoA), this partnership marks a pivotal milestone in their collective pursuit of advancing the field of engineering.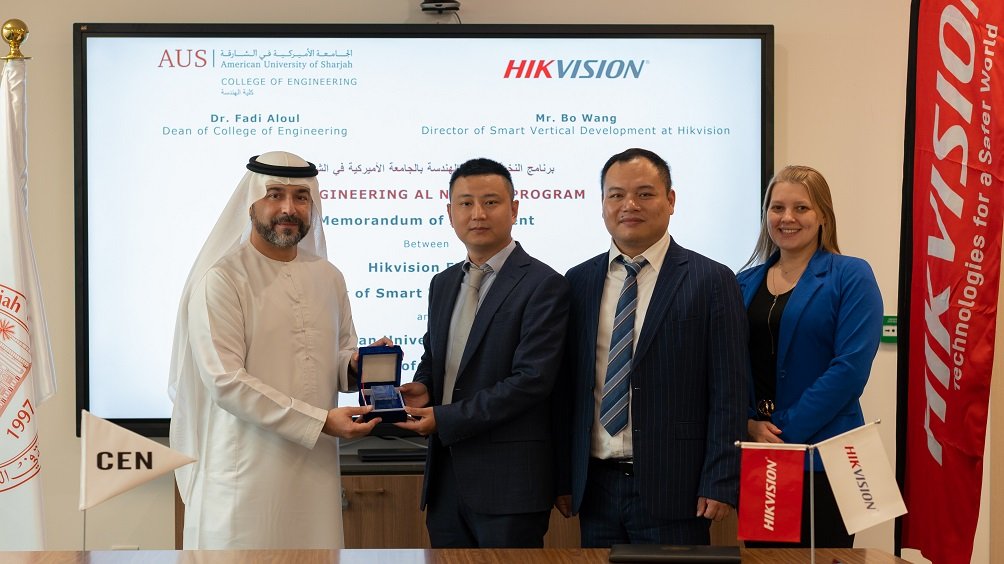 The partnership holds immense value within the framework of the AUS Engineering Al Nukhba Program, acting as a crucial link between the College of Engineering (CEN) and industry partners. Aligned with the college's strategic objectives, the collaboration aims to promote community engagement, prioritize student-centered approaches to education and training, and drive research and innovation in globally significant areas that align with the UAE's innovation agenda.
As part of their graduation requirements, CEN students are required to complete an internship. The AUS Engineering Al Nukhba Program aims to ensure students maximize their internship opportunities, equipping them with essential knowledge and skills while connecting them with strategic corporate and industrial entities aligned with their academic pursuits.
Under this newly established agreement, Hikvision will play a fundamental role in supporting AUS through diverse avenues. This includes providing specialized devices and resources to enhance the learning experience and capacity-building of AUS students, as well as sharing of expertise in critical areas. Hikvision will also offer internships to two CEN students annually. Jointly supervising capstone and research projects, organizing enlightening field trips to Hikvision's exhibition and research centers, and promoting the exchange of knowledge through invited speakers.
The ceremony was attended by Dr. Fadi Aloul, Dean of CEN; Robert Wang, Director of Smart Vertical Development at Hikvision; Richard Ni, Director of Education Vertical at Hikvision; and other officials from both institutions.  
"Al Nukhba means 'elite' in English. We are thrilled to partner with Hikvision through the Engineering Al Nukhba Program, enhancing our students' educational journey. Hikvision's support in providing resources, expertise and internships will empower our students and foster connections with industry leaders. Together, we are shaping a bright future for our engineering students," said Dr. Aloul.
"At Hikvision, we believe in investing in the future of our industry by sharing our knowledge and experience with the next generation of professionals. By collaborating with AUS, we hope to inspire and empower their students to pursue careers in the field of security technology. We are confident that many of these students will go on to achieve great things in their careers, and we would be honored to have them join our internship program at Hikvision. As a leading company in video security technology, we are always looking for talented individuals who share our passion for innovation and excellence," said Wang. 
The College of Engineering at AUS plays a vital role in shaping future leaders. With a commitment to excellence, the college provides a transformative educational experience. By fostering innovation, critical thinking and hands-on learning, it equips students with the skills needed to tackle real-world challenges. Through strategic partnerships like the one with Hikvision, the college ensures students have access to valuable resources and opportunities for practical application, bridging the gap between theory and practice.