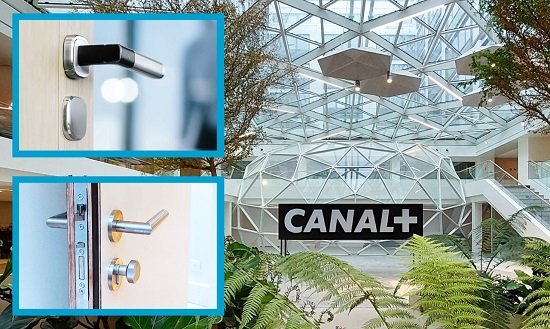 For its new headquarters in a Paris suburb, media giant Canal+ specified a connected smart building to enable efficient, flexible working. Choosing the right connectable access technologies can be a time-consuming task, all too often requiring compromises in the name of compatibility.
"Fast-growing demand for integrated building systems makes it critical for hardware suppliers to offer a range of compatible access solutions," says Thomas Schulz, Product Marketing Director at Assa Abloy Opening Solutions EMEIA.
"Assa Abloy's broad competence and a vast range of connectable access control solutions enables us to match devices to many applications, at almost any opening and in all areas of a building."
The new access control solution for the Canal+ building filters access to and through all technical areas, for 1,200 employees plus visitors and contractors. No-compromise protection is required for multiple types of door, both internal openings and external or emergency exits.
Canal+ prioritised access control devices which offer high performance in both security and sustainability criteria. Particular care was taken to green interior and exterior spaces — as well as to indoor air quality and exposure to natural light — in order to reduce the building's energy consumption.
"As soon as we discuss access systems, all service providers tell me about Assa Abloy products," says Abdeljelil Saidi, Director of Safety and Security at Vivendi/Canal+ Group.
Seamless integration with Genetec Synergis
All Assa Abloy devices installed at Canal+ integrate seamlessly with their Genetec platform. This integration gives employees the flexibility and convenience of carrying one multi-site credential. From an integrated Genetec control panel, administrators can issue, amend or withdraw access for individual users or rooms.
Aperio and Abloy locks connect with the smart building system to prevent unauthorised intrusion into sensitive areas.
Choosing the Aperio H100 Wireless Electronic Handle over wired locking devices contributed to improving energy efficiency. Like every Aperio lock, an H100 is fitted without wiring, which saves power during installation. The electronic handle works without mains power, consuming much less energy than a traditional wired door lock.
Canal+ are delighted with performance of their connected Genetec and Assa Abloy solution: "We plan to equip new Vivendi Group sites and not just the Canal+ headquarters," adds M. Saidi.
The right device for every door, interior and exterior
To secure interior doors, the multi-award winning Aperio H100 Wireless Handle combines security with contemporary aesthetics. Its durable design is perfect for doors with high traffic; the H100 works with online or offline access control systems. A battery slots inside the handle, ensuring a minimal, discreet footprint.
For an even higher level of security at external-facing doors, Abloy electromechanical locks are also fully integrated with the building's Genetec system. These class-leading door devices offer high mechanical resistance at vulnerable points such as emergency exits.
"Abloy electromechanical locks are robust and efficient," confirms M. Saidi.