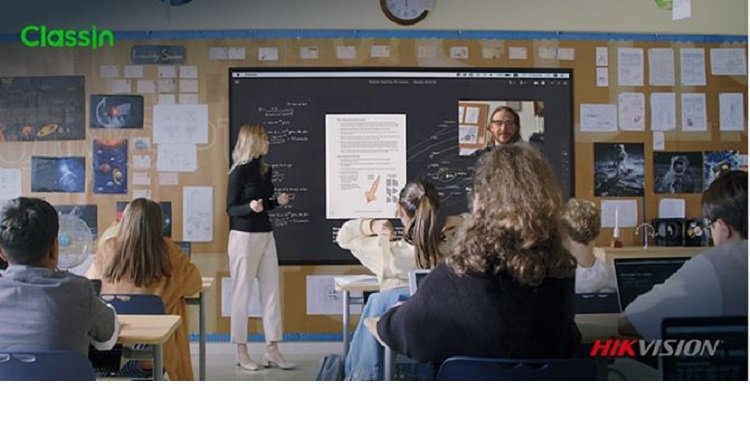 Hikvision has agreed a partnership with Singapore-based Edtech company Classin to deliver cutting-edge solutions that revolutionise the way we learn. By integrating Hikvision's interactive flat panels with ClassIn's hybrid learning software, educators and students can now enjoy seamless, innovative, and interactive learning experiences in both physical classrooms and remote learning environments.
Hikvision's interactive flat panels offer crystal-clear visuals, immersive audio, a user-friendly interface, and interactive touch technology, creating a hands-on learning experience. The integration with Classin's software creates a hybrid learning space encompassing powerful interactive visuals and versatile teaching and learning tools. This empowers educators and learners to enhance teaching and learning across various environments, bridging the gap between physical and virtual classrooms.
In physical classrooms, these digital tools create an immersive and interactive learning experience. Educators can effortlessly manage and deliver lessons, while students can easily access and interact with course materials, enhancing engagement and outcomes. For remote learners, these digital learning solutions offer engaging and uninterrupted learning experiences. They can virtually attend classes, interact with teachers and peers, and participate in discussions and collaborative activities, all from their own homes or remote classrooms.
The integration offers numerous benefits for educators and learners. Educators gain access to over 20 specialised online teaching tools that enhance teaching efficiency and enable more engaging classes, regardless of students' location. They can also manage classes and personnel, stay on track with students' learning progress through intuitive reports and insights on backend dashboard. Students can fully participate in classes through full-screen presentations, pop quizzes, and virtual trophies, whether they are learning remotely or in person. An Instant Messenger System fosters seamless communication with teachers, ensuring their voice is heard. Additionally, students can use a small blackboard in class when participating in assignments, without the pressure of raising their hands. All of these features provide positive reinforcement for attentive and active participation.
Fan Liu, Partnership Manager at Classin, says, "Over the past few years working closely with Hikvision, we have witnessed a great momentum Hikvision's products have brought to the education market. Being a well-established Edtech provider, Classin provides innovative and interactive online and hybrid software solutions for educators, schools, and businesses and it's obvious for the both of us that this collaboration will bring synergy. With Classin's cutting-edge technology and user-friendly features, we aim to transform how people learn and teach in the digital era. Hikvison and Classin's joint solution will focus on Virtual Classroom, Hybrid Classroom as well as Smart School."
"We welcome Classin to join our Technology Partner Program as we are both dedicated to open-minded technology innovation", says Adler Wu, Global Technology Partner Alliance Manager at Hikvision. "In today's rapidly evolving educational landscape, flexibility and adaptability are key in ensuring students receive a high-quality education. We believe the integration of technology and education will empower worldwide students and teachers to unlock their full potential, forging a path towards a more connected and knowledge-driven world."