Western Digital announced the shipping of its new 22TB WD Purple Pro HDDs for Advanced AI-Enabled, Always-on Smart Video Recorders, Appliances and Servers. These new drives are loaded with industry-firsts, including OptiNAND technology, energy-assisted PMR (ePMR), triple-stage actuator (TSA) and HelioSeal to deliver the industry's highest areal density at 2.2TB per platter, delivering 22TB CMR HDDs for its customers.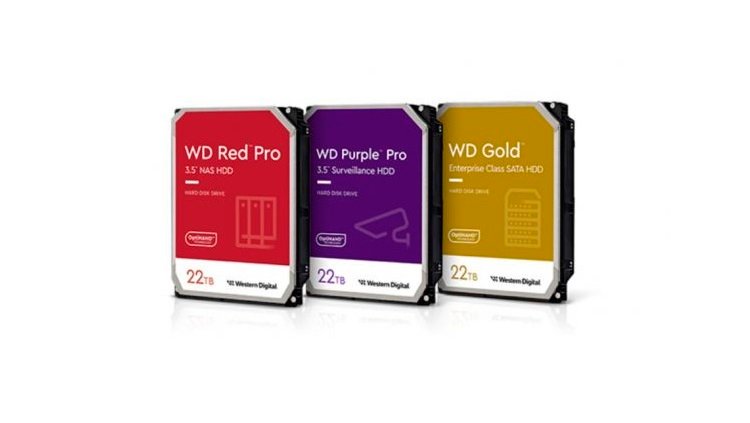 "We are thrilled to reach this milestone as HDDs are complex and sophisticated systems," said Ravi Pendekanti, senior vice president of product management and marketing, HDD Business Unit at Western Digital. "From the cloud to the edge, Western Digital's hard drives play a vital role in storing, protecting, capturing and analyzing data that's shaping nearly every aspect of our digital lives. Our technology leadership and expanded portfolio of industry-leading HDDs provide us with a tremendous opportunity to deliver value to our customers today and well into the future."
Smart video surveillance is on the rise, bringing increased storage requirements along with it. For example, high-resolution cameras are capturing multiple video, picture and metadata streams per camera; AI and video analytics are placing new demands on quantity, quality and retention of video data; and deep-learning solutions are needing more video to train AI algorithms, all while video-surveillance-as-a-service (VSaaS) customers are needing purpose-built storage to efficiently manage this data at scale.
The 22TB WD Purple Pro CMR HDD with OptiNAND technology delivers big capacity to address these trends, in a purpose-built enterprise-class drive supporting video analytics servers, and AI and deep-learning systems. The drive features Western Digital's exclusive AllFrame AI technology that supports 32 AI streams for deep-learning analytics within the system while helping to reduce dropped frames.
WD Purple Pro drives are optimized to handle up to 64 single-stream HD cameras as well as many of the latest smart cameras that transmit multiple streams. It offers high reliability with a MTBF of up to 2.5 million hours 2 for advanced smart video solutions that operate in 24/7 environments. The WD Purple Pro HDD family now comes in 8TB-22TB capacities.