Western Digital is highlighting a range of advanced new technologies that are designed to handle high resolution and capacity for enhanced public safety and artificial intelligence (AI) analytics use cases. The company is pushing the boundaries in smart video, as well as its concept of 'No Blind Spots,' which encompasses a broad portfolio of storage solutions that enable smart video surveillance.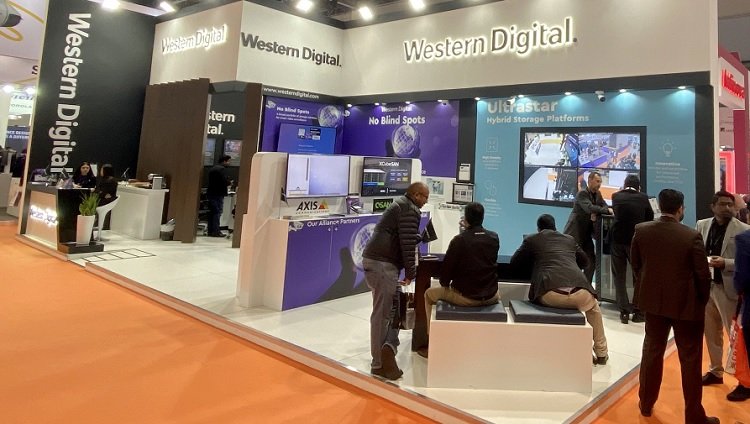 Khwaja Saifuddin, Senior Sales Director, Middle East at Western Digital said: "We are delighted to be at Intersec this year, where we will reveal our 'No Blind Spots' strategy and demonstrate the advanced capabilities of our cutting-edge products and solutions. As greater amounts of data are recorded, Western Digital enables reliable storage and efficient access to critical data. We are in a unique position where we innovate across the technology stack to prepare our customers for the zettabyte-scale age of the future – building a flexible foundation to enabling access to faster intelligence."
Western Digital's approach encompasses products that use raw video, AI and endpoint to cloud technology. The company delivers product reliability and longevity that support multi-streams as well as offering scalable and built-in analytics.
Endpoint solutions by the company are optimized for 24/7 video surveillance cameras and feature high endurance with the capability to withstand extreme operating temperatures from -25˚ to 85˚C. Edge solutions are delivered through SSDs and purpose-built HDDs for Network Video Recorders (NVRs) with high capacity and high endurance allowing for many days of high-resolution video footage to be stored.
The WD Purple portfolio is an ideal companion to enhance smart video technology. Both the WD Purple microSD card and WD Purple Surveillance HDD bring internal and external solutions to the market. The WD Purple microSD card provides long lasting on-camera storage coupled with exceptional performance and reliability. The WD Purple Surveillance HDD features Western Digital's AllFrame™ technology that helps create a security system tailored to the needs of the business.
Optimizing enterprise infrastructure for data to thrive, Ultrastar NVMe series SSDs perform at the speed of today's business needs. The Ultrastar HC 530, WD Gold HDD and Ultrastar Data 60/102 are premier Cloud solutions demonstrated at the exhibition. The Ultrastar HC 530 is a cost-effective option that allows for huge data storage capacities. WD Gold HDD offers enterprise class performance and exceptional reliability making it ideal for demanding environments. The Ultrastar Data 60/102 are 60 and 102 bay hybrid storage platforms, respectively. The extremely dense form factor has the flexibility to use SSD and HDD combinations to balance capacity, performance, and cost.
In addition to the solutions being showcased at Intersec, Western Digital offers the widest storage portfolio in the industry, from high endurance cards that can withstand extreme operating temperatures at endpoint, to SSD and HDD solutions for Network Video recorders that deliver high capacity and high endurance performance, all the way to JBOD servers for high capacity enterprise -class solutions.