Surveon launches Milestone certified EonServ 7000 Series surveillance NVR
Surveon Technology, the enterprise NVR solutions provider, introduced its Milestone certified EonServ 7000 Series, which provides Milestone system integrators with the best price-performance option for enterprise surveillance tenders.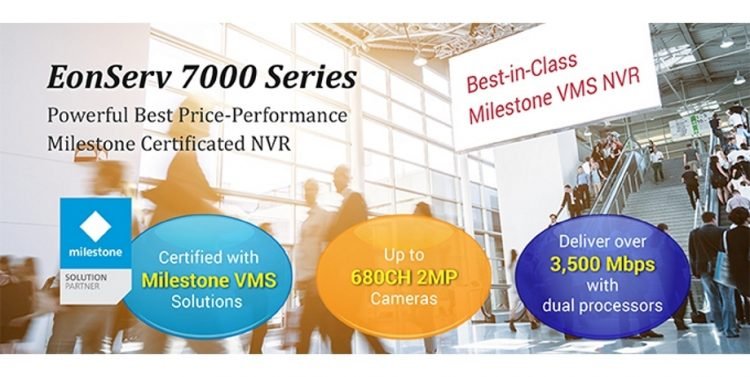 With Milestone XProtect Corporate VMS, the EonServ7000 Series supports up to 680 channel 2MP cameras with continuous recording and 436 HDDs with high density 4U 60-bay expansion enclosure. It is suitable for a wide range of industries, including airport, factory, city and traffic, and commercial building, just to name a few.
With Milestone XProtect Corporate VMS, EonServ 7000 Series supports up to 680 CH @2MP / 570 CH @3MP / 360 CH @5MP cameras recording. In the Milestone test, the single CPU model of EonServ 7000 outperforms the competitors' dual CPU models. This demonstrates the power of Surveon's unique drive handling as well as the proprietary firmware/software integration capability.
With a hardware design that adopts two Intel E5 8-core processors, EonServ 7000 Series can handle a great amount of I/O and file transfers even under high workloads and deliver a high level of recording throughput of over 3500 Mbps, ensuring cameras can record and be viewed reliably.
Intelligent Drive Recovery (IDR) provides superior RAID protection and recovery, increasing integrity and system efficiency while preventing your data from errors and loss.Together with HDD S.M.A.R.T (self-monitoring, analysis, and reporting technology), IDR offers smart media scan, which detects errors before they actually become a problem, and uses spare drives for copying and cloning data before a disk fail. With IDR, the video data can be retained under robust protection.
The EonServ7000 Series comes in 2U12-bay or 3U16-bay form factors, and offers maximum storage capacity of 4 PB when combined with high density 4U60-bay expansion enclosures.