Hikvision announced its Thermal Bi-Spectrum IP camera has been named the 2018 ESX Innovation Award winner in the video surveillance category. The ESX Innovation Awards recognize "the most impactful and groundbreaking technologies for the electronic security and life safety industry."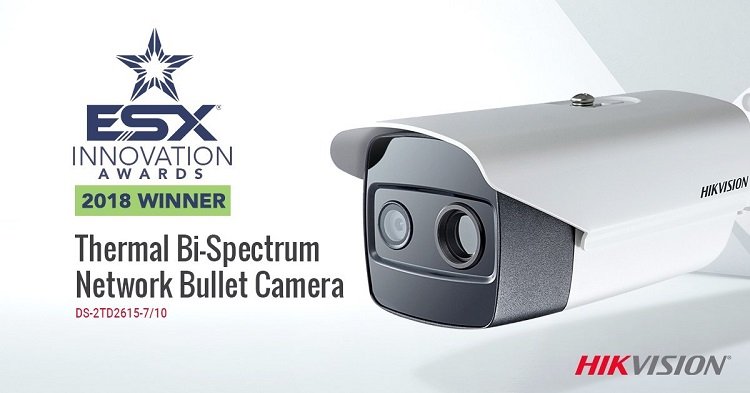 The DS-2TD2615-7/10 Thermal Bi-Spectrum IP camera is an affordable, bi-spectrum perimeter camera system, with onboard VCA, that features a 160×120 thermal imager, with 7 or 10mm lens, and 2MP CMOS DarkFighter visible camera with matched field of view. It is capable of full frame low light color imaging down to 0.002 lux. The DS-2TD2615-7/10 effectively addresses the requirements of highly reliable, low false alarm, unmanned perimeter detection at a very low cost of ownership. Groundbreaking technology that is built into the camera include: bi-spectrum image fusion, picture-in-picture preview and image switching, enabling enhanced image quality and ease-of-use viewing capabilities.
Hikvision and the other ESX Innovation Award winners were chosen by a panel of security industry professionals who judged the products based on features and functions; innovation; end-user experience; ability to solve a problem; revenue growth potential; impact on company value and efficiencies; and compliance with regulations.
Hikvision's award-winning camera will be featured in the ESX 2018 Innovation Awards Showcase located at Booth 707 at the ESX Security show, which will take place June 19-22 in Nashville, Tenn.
"To be recognized by the ESX panel of industry experts is an honor," said Jeffrey He, president of Hikvision USA Inc., and Hikvision Canada Inc. "We're proud to provide our integrator partners and their end user customers with thermal camera systems combined with VCA such as the DS-2TD2615-7/10 Thermal Bi-Spectrum IP camera. Used in some of the most demanding market segments, these Hikvision solutions help combat crime and terrorism, and safeguard North American communities."