DITEK Launches PoE+ Switches for Industrial Applications
DITEK launched its new line of Gigabit Power over Ethernet (PoE+) network switches designed for industrial applications. The products in this new line, which includes both 4-port and 8-port models, are built with a rugged metal case, and feature a fanless design that delivers a high PoE power budget.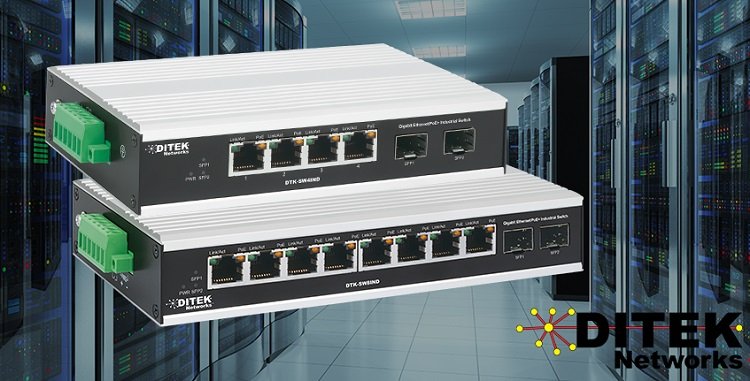 A welcome addition to the three other series of DITEK Networks PoE switches, this new line gives IT professionals and security integrators a new choice for cost-efficient, easy-to-install powered networks ideal for demanding environments.
"In sharp contrast to most business and office settings, industrial environments can be a real challenge for network equipment," said Michael Molinari, Director of Marketing for DITEK. "We introduced this new line of Gigabit PoE+ Switches to meet these challenges head-on. They have the rugged strength, extreme temperature tolerance, high power output, and quiet, dust-resistant operation that would make them the ideal choice for these demanding applications."
Two new DITEK Networks models are available:
DTK-SW4IND 4-Port Gigabit Ethernet PoE+ Industrial Switch
DTK-SW8IND 8-Port Gigabit Ethernet PoE+ Industrial Switch
Both models support up to 30 watts of power per port while delivering network speeds of up to 1 Gbps. Total PoE Budget for the 4-port model is 120W, and total PoE Budget for the 8-port model is 240W.
Both models feature rugged, IP40-rated metal cases and a fanless design.
Both models have a wide -40 to 75 degree C (-40 to 167 degree F) operating temperature range.
Both models feature 10/100/1000 Mbps autosensing ports that automatically detect optimal network speeds.
Both models feature two small form-factor pluggable GBIC module slots (SFP).
The new models are ideal for PoE Network devices, as well as Wireless Access Points and IP Video Cameras. Both models come with an included DIN-rail mounting bracket, and require a separate DC industrial power supply (not included).