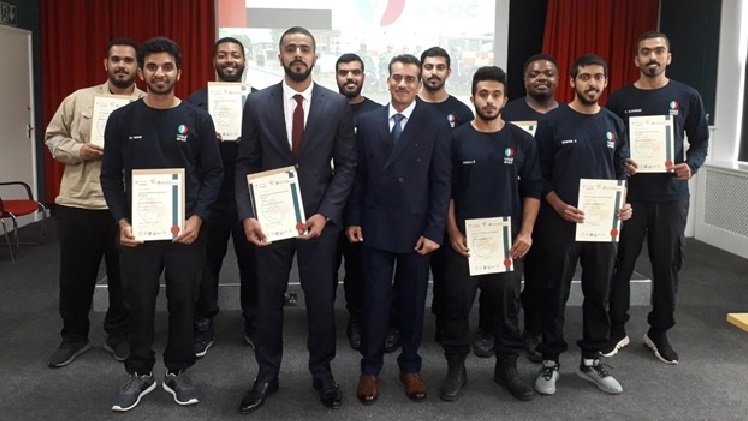 ENOC employees complete international firefighting training programme
Recently the batch of ENOC employees that included ten young UAE Nationals came back after completing a four-week intensive training programme at the prestigious International Fire Training Centre in London. 
ENOC's Technical Training Program (TTP) completed the training course and covered rigorous coaching on structural firefighting, oil & gas firefighting and HAZMAT (hazardous material) handling. A graduation ceremony was held at the International Fire Training Centre in London and was attended by Nabeel Abdul Kareem, Director, Group EHS Services.
The course in London – comprising lectures, seminars, assessments and group exercises – prepared the employees to take up a role as full-time career firefighters at ENOC Fire Emergency Response Centre (EFERC) in Jebel Ali.
ENOC is the first energy company in the UAE to offer its employees an opportunity to participate in this technical training programme; a move that reiterates the Group's commitment towards elevating HSE standards and investing in human capital development.
His Excellency Saif Humaid Al Falasi, Group CEO of ENOC, said "ENOC remains committed to its mandate of developing its human capital and fostering strong partnerships with institutions specialising in training and development to further enhance our employees' skill sets. By raising benchmarks continually, especially within our Group's environment, health and safety practices, we are leading the way for the energy sector to stay aligned with the global industry's stringent safety policies".
Operating in a versatile sector, ENOC regularly conducts internal fire drills as well as Joint Fire Emergency Exercises in co-ordination Dubai Civil Defense. Enhancing emergency response measures is crucial for the business continuity of the Group that mandates training for its employees every year based on their training needs identification (TNI).
As a National Oil Company, ENOC has a high interest and invests heavily in Emirati talent. The Group has already achieved 40 per cent Emiratisation and plans to reach 50 per cent by 2021.